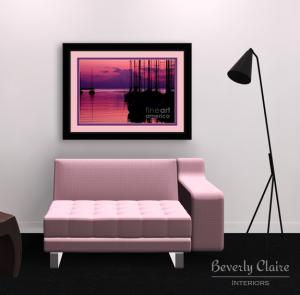 A vivid pink and purple sunset at the Moroiso Bay in Miura Peninsula, Kanagawa Prefecture, Japan. Silhouettes of yachts add depth to this scene. Mt. Fuji can be seen in the background. I framed the photo and used it to one of my 3D room models with a Portion sofa by naughtOne.

This romantic photo makes the perfect gift for the couple going off to an adventure or honeymoon, or anyone who loves sailing and sunset scenes.

This image is available as a postcard, greeting card, postage stamp, poster and art print.